One of the most famous names in the international amusement machine industry, Michael Green, has died at the age of 82.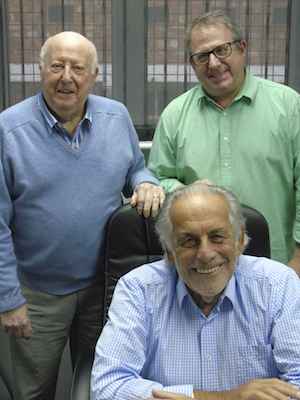 Green, who two years ago celebrated 60 years in the industry, was well known right across the world as a sales personality with a number of companies and with at one time his own pool table manufacturing company.
He had fought cancer for the past year, but succumbed this morning in a London hospice, causing shock-waves across the industry, but most notably in the UK where he spent most of his working life.
In recent years he was sales director at United Distributing Company, Derek and Mark Horwood's London machine company, that went into a mourning lock-down today. Derek Horwood, who had known him for many, many years, commented: "Each of us grieves, not only at the passing of a tremendous individual and true gentleman, but also for the loss his family suffers.
"His many friends in the trade will mourn his passing as he was a great friend to all and known not only in the UK but internationally.
"Michael will be sorely missed by everyone whose life he touched."
Next door is, of course, the offices of Electrocoin, where John Stergides was equally devastated by the news of Green's passing. "I visited him yesterday and he was still smiling and looking forward to coming back to work," he said. "We went back a long way together. We are all very, very upset."
Said David Snook, a partner in InterGame: "I first met him in 1968, and I have deliberately used the words 'one of the most famous names in the international amusement machine industry' at the start of this news item because for once, it is really appropriate.
"Michael knew just about everyone and he was my first port of call when I was writing an obituary on one of our newly-passed friends. He had an encyclopedic memory for people, places, dates and more particularly in the close-knit coin-op family, who was related to whom and lots more family details.
"He was also a superb salesman who knew how to put a deal together without being unfair in any way or taking advantage of anyone. He also instinctively knew whether a new machine would be a winner or a dog. Michael was also a friend and one I shall sorely miss."
He had a rich and colourful business life beginning in 1954, when he began operating juke-boxes in London and then moved into selling them. His first company was Greenlea Automatics with just juke-boxes before he started operating fruit machines (AWPs) before they were actually legislated in the UK. He joined Phonographic Equipment and then the new PRW when Phonographic merged with Ruffler and Walker in the mid-1960s.
Green became closely associated with the seaside amusement trade in the UK and the mainly travelling showmen who ran them, becoming personal friends with many of them. He also grew his connections across the Atlantic and in the Far East as the American and Japanese industries became more influential. He was a particular friend of Marty Bromley, who founded Sega.
Green became a manufacturer with Alca Electronics at the start of the pool table boom in partnership with Alan Carter and Geoff Ellis and became a principal supplier to the UK industry, moving on into the video games business with the first ping-pong games.
By the late 1980s the bottom was dropping out of the pool tables and video games market and Michael moved to the US to join US Billiards, then back to the UK to join Gerald Steinberg's Joyland Amusements, then Taitel, Sega, then operating the big London arcades for Family Leisure, notably the Trocadero, before concluding his long and distinguished career with UDC.
He leaves a wife, Hilary, who was to become very well known throughout the industry, and two daughters by a previous marriage.
At the time of writing, details of the funeral are not known, but InterGame will report the arrangements as soon as they become known.
Image: Michael (front) with Derek (left) and Mark Horwood, a photograph taken two years ago to celebrate his 60 years in the industry.