Mario fans on the US west coast can rejoice – BANDAI NAMCO's virtual reality outing for its iconic Mario Kart game is making its way to Irvine, California at K1 Speed.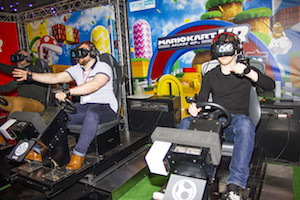 Only the second location in the US after the game's debut in Washington DC last year, the title will be the highlight of the indoor karting location's arcade, which is being transformed into a BANDAI NAMCO VR Zone Portal.
"We at BANDAI NAMCO Amusement America are incredibly excited to bring Mario Kart Arcade GP VR to more locations across the States," said Nick Iftner, virtual reality sales manager at BANDAI NAMCO Amusement America in a statement. "The first location in the States in Washington DC proved to be a hit, and we're eager to bring it to the west coast where we believe many are waiting to try it. We are confident that VR Zone Portal Irvine will be a huge success."
"We cannot wait to have VR Zone Portal Irvine with Mario Kart Arcade GP VR inside our location," added Susan Danglard, owner and marketing director of K1 Speed. "This cutting-edge virtual reality experience is the perfect complement to our premium indoor kart racing experience. Visitors will get to physically race go-karts on our track and then virtually race at Mushroom Kingdom – we know this will be incredibly popular with people of all ages in Southern California."
The original venue for Mario Kart Arcade GP VR was at the VR Zone Shinjuku, Japan, in 2017, which sadly closed earlier this year. Since then, fans have only been able to experience the attraction in the UK in London and Leeds and in the US in the capital's Union Station.
The Mario Kart Arcade GP VR will be available at VR Zone Portal Irvine from June 12.
Image: InterGame's editorial team battling it out on the track at the VR Zone at Hollywood Bowl in Leeds, UK.