The huge Mall of Oman project is on track for a 2021 opening.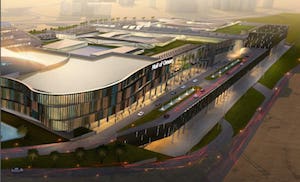 Majid Al Futtaim, the developer responsible for the venue reports that it has put into place the new roads and flyovers connecting the site to the Muscat Expressway.
It has also completed the work of the Muscat Electricity Distribution Company to install a primary sub-station. Now the project, which will be MAF's fifth Oman mall, and which will contain a Magic Planet FEC, is set for opening in March of 2021.
It will have 145,000sq.m of retail space, many dining options and the FEC and other experiences including the country's largest VOX cinema and a 12,200sq.m Carrefour hypermarket. It will also have the largest indoor snow park in the sultanate.
"The tourism and retail sectors are integral to Oman's economy and are poised to drive economic growth and contribute to diversification in the country," said Ghaith Shocair, CEO, Majid Al Futtaim Shopping Malls.
"By developing Mall of Oman, we continue to contribute to the growth of the local tourism industry and enable job creation for residents both during and post construction. A development project of this size and scope is beneficial to Oman's citizens and residents and will positively contribute to economic and social development in the sultanate."