US VR developer MajorMega had its four-player VR attraction The Hyperdeck pulling in the crowds at IAAPA Expo.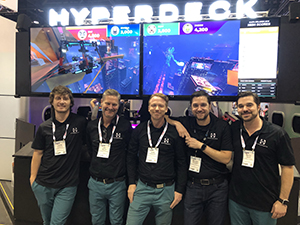 Combining wind and heat effects and a full-motion floor with three degrees of freedom, the platform has been designed to "give the best immersive VR experiences in the world," said co-founder and CCO Sean Hennessey. "There're no parlour tricks or token gestures of wind and heat, you can really feel it and it adds to the whole immersion."
He explained that way the attraction has been designed has completely ironed out any potential issue with players experiencing motion sickness, something which can put off many first-timers. "We use the floor to simulate motion and acceleration to combat that. Without this integration and all the other physical elements, you would suffer, but we've had literally zero complaints of sickness throughout the thousands of hours of play testing we've done. We take this kind of mitigation very seriously, it's a core pillar for us; if people are getting sick they won't play again, so it's vital to address this."
As for the game itself, even those watching on can get involved using spectator screens, which allow them to either assist a player with in-game crystals or hinder them by dropping bombs in their path.
"We've two games right now with family content, no zombie blood and guts. It's sort of a standard that want to keep throughout our games, there's no humanoid violence, but they're games that are still thrilling to play.
"All our software is currently produced in house, but we've had a lot of interest at IAAPA with people asking if we'll allow others to develop games for our platform.
"We're working on a toolkit that will help collaboration with other developers," revealed Hennessey.
The Hyperdeck has a 17x18ft footprint, offers an eight-minute experience with one-minute load and offload without the need for any backpacks or seatbelts.
Hersheypark in Pennsylvania, US, is due to receive two Hyperdecks, while other locations to offer the experience include fellow US operations Two Bit Circus and Andretti's.
While at the show it was also announced that a deal in principle with Dubai distributor Amusement Services International had been agreed for it to be the exclusive agent in MENA and the Indian sub-continent.
"It's easy to play, difficult to master," said Hennessey. "Anyone can play it, but there's a lot there for dedicated players to come back for and improve."
Pictured: MajorMega's Colin Schultz, Jay Miller, Sean Hennessey, Michael Bridgeman and Bryce Winter