A two-level rooftop location is the setting for a new karting attraction that has opened in Al Kout Mall, Kuwait.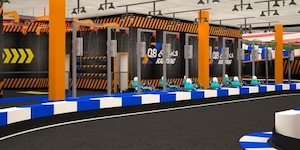 Operator Q8 Karting has developed the 5,100sq.m venue as a unique indoor facility. It takes up the tenth floor of the mall with a dedicated entrance from a shop inside the mall and accessible through different elevators from all levels of the indoor parking area.
The venue has two karting tracks, one for juniors from age seven and the other for teenagers and adults beginning from age 13. There is a combined layout making a track 510m long.
Q8 Karting will make available to guests the opportunity to join the Sodi World Series for local and international races.