A gaming and esports venue, called Level Tap, has opened in the city of Liverpool, England.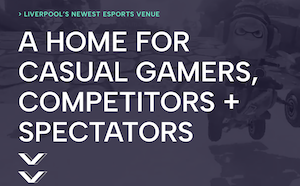 The new venue, its name stylised as leveltap, can be found at the Liverpool One shopping complex on Liverpool's Hanover Street.
The city's new games and sports hub fittingly has two "levels", with ten console stations, 20 PCs and two racing simulators available to players, alongside "retro gaming machines" that come equipped with fan favourites.
Level Tap had its launch party on May 26, with the evening sponsored by the company's tech partner ASUS Republic of Gamers as well as AlphaSync, and was attended by a variety of individuals from Liverpool's "digital and creative world."
Attendees were treated to gameplay from top esports professionals. including Liverpool's Jukeyz, a speech from Liverpool City Region Mayor, Steve Rotheram and a demo of Level Tap's extensive gaming equipment.