A legal action brought in California against Sega over its Key Master game will be defended, says the company's CEO Paul Williams.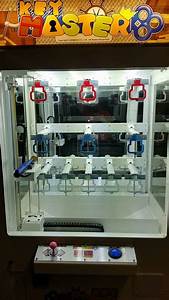 The case is brought by an individual over the game because he believes that it is rigged and can only be beaten after a set number of unsuccessful plays have been recorded.
Marcello Muto and his backers are seeking $5m in damages from Sega, but Williams, of Sega Amusements International, told US publication RePlay that the case would be rigorously defended. It is being handled by Sega in Japan.
The law suit alleges that the game is 'systematically marketed and sold, with images and advertising that indicate the machines are games of pure skill when, in reality, the machines are rigged and are designed to prevent even highly-skilled users from being able to win until a set number of unsuccessful plays have been completed."
The company fought a similar class action in 2014 over Key Master and it was successfully defended.