The official opening date of Madar, a new family-focused entertainment complex that is located in Aljada, the 24 million sq.ft mega-community currently under construction in the Emirate of Sharjah, UAE, has been announced.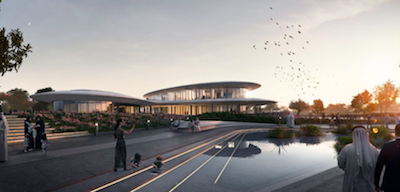 The first phase of Madar, which is spread over a 600,000sq.ft area will be unveiled on February 27.
It contains a cluster of zones and attractions set in a landscaped area that includes more than 5,000 trees and parking for 800 cars. It is also the first part of Aljada to be completed.
Among the attractions will be a children's play area, skatepark, amphitheatre, indoor and outdoor events spaces and the centrepiece of the complex, the Aljada Discovery Centre.
Sheikh Sultan bin Ahmed Al Qasimi, chairman of developer Arada, said: "It has been our aim from the start to create communities that inspire and engage their residents and visitors. We are excited to see that vision come to life with the launch of Madar, a new home for entertainment and culture in Sharjah, a place that is already known the world over for its outstanding contribution to heritage and the arts."
Planned over three phases, Madar will be over 25 football fields in size (1.9m sq.ft) when fully completed and is the focal point of Aljada. The Madar master plan is defined by lush green space and many water features and is designed to be fully walkable, even in the summer months.
Aljada is situated on the last major plot of undeveloped land in the heart of the city and is a district that comprises retail, leisure and entertainment options, in addition to a wide range of residential and commercial offerings.