Read all the latest news on the global amusements industry in the latest digital edition of InterGame magazine.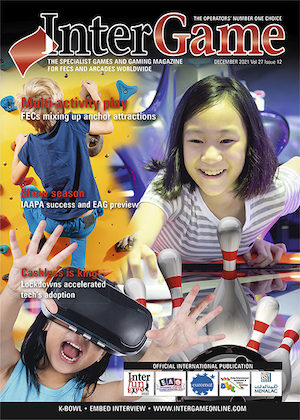 In the December 2021 issue, you can read our features on multi-activity entertainment centres and the surge of contactless payment technology. Also included is an extensive interview with Embed's new man on a mission, Kash Ahmad, and a profile piece on Ireland's K-Bowl Kilkenny.
To read this issue, please click here.
The January edition of InterGame will include a feature on children's entertainment, as well as all the usual news coverage. There will also be a preview of ICE and EAG, both in London, and some news from the recent IAAPA Expo in the US.
To discuss marketing opportunities or to have your products featured in this issue, please contact [email protected]
To subscribe and receive regular print copies please click here.