In April's issue of InterGame we ran an exclusive interview with Silvio Liedtke, COO of Landmark Leisure, the Dubai-based entertainment division of the huge retail and hospitality conglomerate, Landmark Group.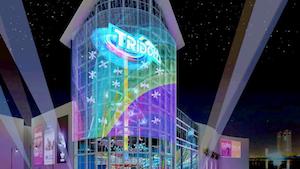 In it, we featured the firm's new Tridom FEC concept, which is designed to cater for those aged 11 and upwards. At the time it was still under construction at The Manar Mall at Ras Al Khaimah, an emirate three along the coast from Dubai in the United Arab Emirates, but Landmark has now confirmed that the initial "soft" opening date is to be June 12 with a grand opening following on July 4.
The attraction will feature a rotating drop tower ride, which, standing at 37m, will be the tallest in the Middle East. The park will also include the largest covered playground in the region, bumper cars, a Ferris wheel, an Air Racer ride and the Disk'O Coaster.
The Manar Mall location is set to be the first of many for Landmark as it looks to expand the concept across the region and into India. Two of the big new Tridom brand locations will open inside India in the next 18 months. "They will be bigger than the 40,000sq.ft we have at RAK," said Liedtke. "The logistics of operating in India are rather different than those of the Middle East. We make the locations bigger because the yield is not so high there by comparison."
"We are very excited about it," said Liedtke. "It is something really new for us; something we have researched very, very carefully and something that we think will immediately have its own identity and appeal to its own core clientele. We have a world-class environment there, the very best available content and world-class safety standards. It is how we like to operate."