The Automobil Lamborghini Museum has marked its reopening with a special ceremony, following a redesign.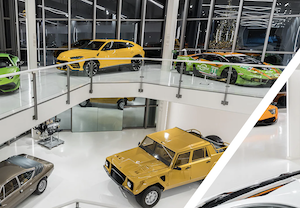 While the museum opened its doors to the public in December 2022, this month's opening ceremony was timed to also celebrate the company's 60th anniversary, reports Motoring Research.
Along with significant changes in the museum's design, such as a new layout which puts Automobil Lamborghini's history front and centre, the refurbishment also offers visitors a new interactive experience, with a state-of-the-art driving simulator.
Visitors to the museum in Sant'Agata Bolognese will be able to explore its new 'The Future Began in 1963' exhibition, where 19 cars from throughout the company's 60-year history are on display. These exciting new touches to the museum are part of a year of anniversary celebrations for the company.
CEO and chairman of Lamborghini, Stephan Winkelmann, said: "This year will be full of original activities and developments, which opens with this new museum. We will celebrate our first 60 years through international events, initiatives and unexpected activities, which we will reveal during the year."