Simulator specialist Simworx has partnered with UK technology developer Katapult to launch a new ride concept.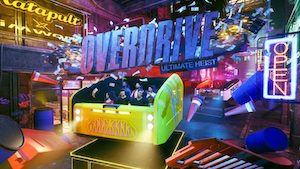 Visitors to the IAAPA Expo Europe in London last month were treated to a preview of Overdrive: Ultimate Heist and more information has now been released.
The AGV Dark Ride, given a police car theme, was used for the new development. In this format it took the form of a role-playing attraction against other players, either as the getaway car or the pursuing police car. Players are briefed and then navigate underground tunnels and construction sites in a race down highways.
Simworx's AGV (Automated Guidance Vehicle) dark ride technology can accommodate up to 1100 riders an hour in ten AGV vehicles through ten scenarios.
Katapult's chief creative officer, Phil Higgins said: "Overdrive: The Ultimate Heist is a world-first, high-adrenaline, dark ride concept that takes full advantage of Simworx's AGV system.
"We spotted a gap in the market for a ride concept including police chases and getaway cars, tapping into the wealth of popular movie and gaming franchises. The ride system's trackless feature high acceleration and duelling capability will launch guests into a storyline with multiple endings."