Stern Pinball has confirmed it will soon be releasing a new Jurassic Park pinball game.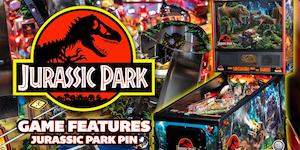 It's the third year on the run the company has dropped a new machine for the pre-Christmas season, after Stars Wars and Star Wars Comic Art themed games from previous years.
Designed by Jack Danger, the Jurassic Park machine is a completely new game and not a repackaging of prior releases.
Real pinball play is provided with a ball-spitting T-Rex, raptor pit, drop targets, metal and wire raps, a control orbit game and auto-launch.
Utilising an LCD display, LED lighting and Spike electronics, the machine has no coin-op code or wiring, as it's for consumers to use in the comfort of their own home.