Sixteen architectural world records are set to be broken in the building of Meydan One Mall, a huge new shopping, entertainment and retail development in Dubai, United Arab Emirates.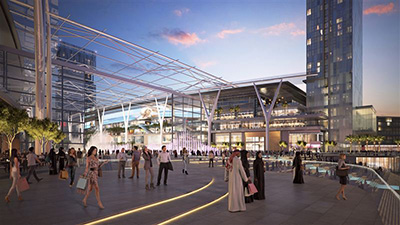 Work has now begun on the project, which will contain the world's largest dancing fountains, longest indoor ski slope at over 1km, a 131,000sq.ft hypermarket and a record-size (160m x 100m) retractable skylight. Meydan One will have over 600 shops, two department stores, 100 food and beverage outlets and a 21-screen Cineplex.
The complex is set to open in 2020 with the first phase, a central 400m shopping strip to be called Central Canyon, featuring high-end shops and five-star hotels. A sports facility will include football, basketball, volleyball, squash, racquetball, paddle ball, table tennis, badminton, cricket, marital arts, boxing, jogging and softball, with the additions of a golf driving range and baseball batting cage.
Outside there will be more football pitches, mountain bike trails, walking and running trails and skateboard and BMX park.
The housing element will contain 83,000 people and will have a record 711m residential tower, civic plaza, a 4km canal, 5.3km of cycling and jogging tracks and 300m of beaches.