The US-based amusement manufacturer Jennison Entertainment Technology unveiled its latest product, Wile E Coyote's Rocket Wheel, at the IAAPA Attractions Expo this week.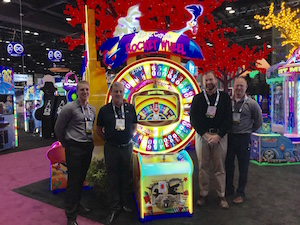 The game features the much-loved licence of Wile E Coyote and Road Runner from the Looney Tunes intellectual property.
It is still in production but will be shipping in December this year.
The game is housed within a large, striking cabinet with bold, bright colours and graphics from the cult cartoon. A skill test designed to appeal to all ages, players test their strength by pushing down on the plunger mechanism which in turn rotates the large wheel. The object is to spin the wheel to win as many tickets as possible.
A unique bonus feature allows for an explosion of tickets if the player can correctly match all Road Runner symbols on the wheel. All wins are mirrored on the central video monitor that continuously plays clips from the animated classic.
"We're in production now so we're going to be shipping in December," said John Brennan, business development manager.
The game will be distributed by Harry Levy in the UK and Warehouse of Games in the Middle East.
Brennan revealed that JET will be in the UK in January for London's EAG amusement expo introducing its next product, Kahuna's Big Wave, a two-player redemption game with two 42ins monitors and "Hawaiian-style drums and island music."
It is part ball drop, part carnival game with the player trying to get the ball into the mouths of six tropical island-themed masks.
"If you miss the mouths the ball drops down on to the 42ins screen, which reacts with the ball and it is very visually appealing," Brennan said.