The Innovative Technology (ITL) age-checker, already in use in arcades and casinos to check for under-age players on their locations, is making inroads into the realms of liquor stores.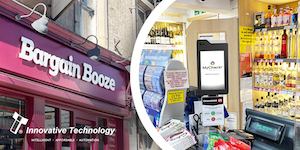 Bestway Retail has announced that it will extend the use of age estimation technology in a number of its UK stores, following a successful trial of the ITL MyCheckr product, powered by its ICU Lite technology.
It was first installed in the Bargain Booze stores in January for a test-run to the end of May and now Bestway plans to expand its use, stating that it has "helped to boost staff's confidence when asking customers for ID.
"Anything that ensures we protect children is paramount to us as a responsible business".