The Irish Gaming Show closed yesterday after a two-day run in the Red Cow Moran Hotel in Dublin.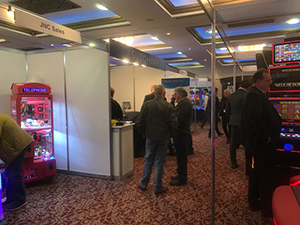 The focus of the show was once again the progress of the Gaming Control Bill 2013, a piece of legislation designed to nationalise Ireland's gaming and arcade laws, rather than have it in the hands of local authorities. But due to a considerable backlog of legislation to be approved by the Dail – the Irish parliament – the bill has been in limbo since then.
The Irish Amusement Trade Association has been pushing for this legislation for the last two decades. It's general secretary, John Roche, said: "I think realistically it is going to be another 24 months before we see any movement on this. Until then we are going to keep pushing for a gambling regulatory body to be formed and hope that that will speed up the process."
The show's attendance was low on both days. Its organiser, Susan Feery, said: "It's not a big industry here, so it's never going to be packed, but its great for it to have one time in the year where everyone can meet and do business."
The show saw the return of Electrocoin for the first time in more than 10 years. Giannis Stergidis, the company's owner who helped to found the show 39 years ago, said: "We see the Irish market getting stronger now so we thought it would be a good time to return."
The amusement representation had decreased last year, but was up again with companies like JNC, Crown, Whitehouse Leisure and PMS in attendance.
The first night included a raffle and auction in which a 30ins flat-screen television was bought for €300 and a brass cheetah, donated by the late Jim Casey, a stalwart of the Irish sector, for €180.
The award for best product went to Carnaby Gaming Machines for its Dracula cabinet. Its managing director, Derek Lynch, accepted the award and later said: "Analogue machines are still very popular in Ireland but we have added some of the features you typically associate with digital into it and it has proven an effective hybrid."