Lasertron has upgraded the laser tag facility at the 155,000sq.ft indoor FEC, iPlay America, in Freehold, New Jersey, US.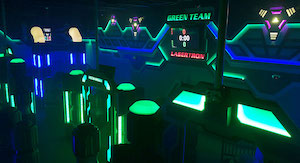 A 12.5 game system and LED interactive arena replaces the original LT-11 installation that was conceived in 2011. The full overhaul includes 68 new LT-12.5 PRO Vests, eight enhanced RGB LED target medallions, seven enhanced RGB LED sectors with TV and speakers included in each, LED wall lighting effects, LED interactive façade and Lasertron's cloud kiosk system. Much of the original arena parts were reused, as they are modular.
General manager of iPlay America Amanda Sarno said: "The new Lasertron arena upgrade allows for a more interactive experience for our guests because they are more hands on throughout the entire process. Guests begin the experience by making their own player profiles.
"The photos and scores of the players on the TVs and the new LED lighting has been an added focal point of our property. We are extremely happy with the responses we're getting from guests, both enjoying the experience and those just passing by."