The first reader in the industry to accept credit cards, Intercard's iReader Impulse, was unveiled for the first time at last week's IAAPA Expo - and it might just herald a new wave of products according to the company's global marketing director, Lynda Brotherton.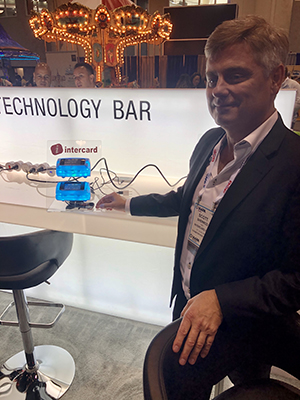 "Our engineers worked for over a year to get this right. Operators have been asking for this functionality for a long time and it's taken our team that long, working solely on this project. That's a lot of talent devoted to one product, but we're so pleased with the results. We've had an overwhelming response to it. We're pre-ordering now for imminent shipping.
"We expect others will now have to do this quickly, now that we've broken the mould, but as we are always trying to lead the way, this just another way we're innovating. This could also change our menu of products over the next five years, it's that big. We have a great range of readers already but once you add the impulse that reads a playcard and a credit card, what else do you need?
Brotherton also revealed that the company will soon also have a touchscreen version of the iReader Impulse, but it wasn't quite ready to be revealed at IAAPA. " We'll be rolling it out in good time and only when it's ready," she assured.
The iReader impulse is the latest example of the evolution Intercard has undergone over the last few years. "We're hiring a lot more people and looking at a lot of great things. We're doing double the amount installs that we rolled out two years ago and our new products will simply increase those numbers. The Impulse will change our operations."
One of Intercard's other products, the iTeller, is also being aimed at the evolving cinema market. "It's ideal for that market," said Brotherton. "Cinemas here in the US and elsewhere are moving towards the experiential with more focus on F&B, amusements and FECs. Movies are becoming just one part of a greater offering that the iTeller will be able to provide everything for; movie tickets, gamecards, food and drinks - it is completely customisable."
Image: Intercard CEO Scott Sherrod shows off the iReader Impulse