Intercard is to take its hybrid impulse reader to next week's Bowl Expo in Las Vegas, US, in response to the growth in the use of credit cards in FECs.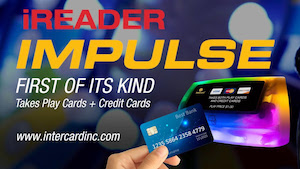 The impulse hybrid card reader takes credit cards as well as play cards. "Our customers tell us that credit card use is up substantially at FECs and BECs and I believe the trend is here to stay," said Intercard CEO Scott Sherrod.
"Operators find that credit card users spend more on advance purchases via ecommerce as well as in their centres."
Intercard customers who have tested the impulse reader have experienced revenue increases of up to 20 per cent by making it easier for guests to pay and play.