An Intercard team led by senior vice president of international sales, Alberto Borrero, will be in Mumbai next week for the IAAPI trade show.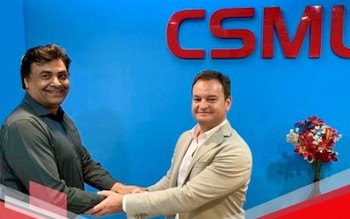 The company's Indian distributor, CSML, will be represented by Rohit Mathur.
It is the 20th IAAPI show and Intercard is going to sponsor the IAAPI IAC Connect event during the show.
The company has some notable clients in India, including Esselworld and Namco. CSML handles the installations in India and provides local service. It recently installed the latest Intercard system in the new Namco FEC at Seawoods Grand Central Mall in Navi Mumbai, the second BANDAI NAMCO location in India and the largest in the country.
Intercard will be on booth A3.
Image: Rohit Mathur (left) with Alberto Borrero.