A new indoor climbing centre has opened in Kilmarnock, Scotland.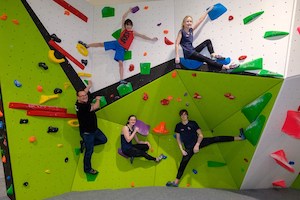 Above Adventure is designed to cater to climbers of all skill levels and abilities. Based in a former church, the location offers rope climbing, and indoor bouldering with the opportunity to join kids and adults clubs.
The facility is equipped with the latest climbing gear and safety equipment, ensuring that climbers have the tools they need to climb with confidence, including a bouldering room, with low level equipment and soft landing mats as well as a sensory room for participants with visual impairments.
Gayle Watson, chairperson, Above Adventure told the Daily Record: "At Above Adventure, we're committed to creating a community of climbers who share a passion for the sport and a commitment to inclusivity.
"We believe that climbing has the power to bring people together and break down barriers, and we're excited to share that experience with our community."