A "VR first" new ride will be open to the public this month at famous UK attraction, the Blackpool Tower.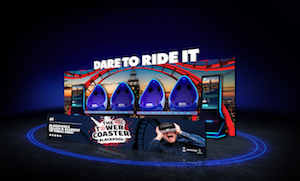 The experience will treat guests to a bespoke townscape of Blackpool's iconic skyline and the Fylde Coast, offering unseen views of the landscape and iconic landmarks, such as the Tower, the three piers and the Pleasure Beach.
Visitors to the Tower's brand-new themed entertainment and events space, The Fifth Floor, will be able to sample the new attraction, which is a specially adapted edition of the company's immersive VR coaster experience, The Tower Coaster.
Created by the team at Immotion, this is the first time content from an existing experience has been modified to match an urban setting, something which is now available as part of the company's wider offering and designed to create a more in-depth, and richer immersive experience for the user.
"We are absolutely delighted to have partnered with one of the most iconic tourist attractions in England," said the CEO of Immotion Group, Martin Higginson. "Our focus on quality, high-footfall leisure locations is embodied by the Blackpool Tower and we hope to make the visitor journey even more enjoyable.
"This bespoke experience is taking immersive VR to new levels and we cannot wait to engage further partners with more uniquely created cityscapes. We continue to provide our partners with high-value new exciting experiences that complement their current offerings and generate valuable ancillary revenue for them.
"We believe this is a highly scalable model with global potential, as has been evidenced by the number and quality of our international partnerships with the likes of Al Hokair, Merlin Entertainments, Shedd Aquarium, SeaLife, Santa Barbara Zoo and London's The O2 Arena to name but a few."