US manufacturer ICE has praised its relationship with the company it partnered with for the launch of its latest game, World Football Pro.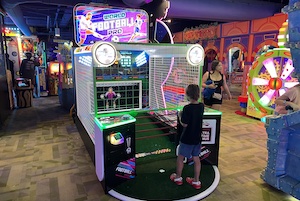 The new game was a collaboration between ICE and Gordon Crompton and Ben Wilson of GB Amusements, the same company that ICE joined forces with to create its previous skill redemption game, Whack N Win.
Ryan Coppola, international sales at ICE, said: "We are very appreciative of the long-term relationship with Ben and Gordon and once again their creativity has helped us bring a great physically interactive sports game to the market. They continue to push the boundaries on new game development and their close relationship with ICE's R&D team proves to be a huge factor in bringing new, high quality and innovative games to market."
ICE's COO and leader of the R&D team, Drew Krouse, took the prototype from GB Amusements and outfitted it with flags, LED lighting and authentic turf. The team at ICE also added goalie sensors that are enabled when the ball has been kicked, while software only allows two balls to be playable in the game.
Krouse said: "We feel we have created the most realistic soccer game the arcade market has seen to date. In our initial testing we saw immediately the game was being enjoyed by players of all ages and like our other ICE sports games promotes that friendly competition between family and friends."
World Football Pro has been in production for the past few months and is now operating in the US, Mexico, Europe, Australia, Canada and the Middle East.
Juan Sarquis, from Circus Park in Mexico, said: "It is worth mentioning that since the machine was released to date, it has not had any mechanical failure or been out of service on any occasion. In short, this machine has the highest technology, has been widely accepted by our customers, and has met their expectations, experiences and satisfaction."
Jeff England, operator of NED's Fun World in Ontario, Canada, said he had initial hesitation around the product, but was won over. "We decided to try World Football Pro at our place thinking it would be a filler piece. After its first week it outperformed all our two-player carnival games. This is a one-player game and it is competing and beating most two-player games."
ICE says it is trying to keep the lead times on any new orders of World Football Pro within a four-to-six-week window. The company will be showcasing it and other games at the upcoming IAAPA Expo's in Vienna, Austria, and Florida, US.