Early reports coming back from the IAAPI trade show in Mumbai, India, suggest that the event is improving.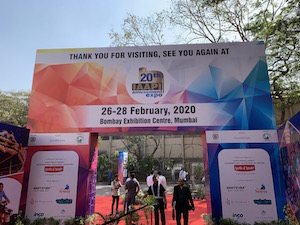 The exhibition, which opened for a three-day run on Wednesday, is the 19th to be operated by the Indian Association of Amusement Parks and Industries.
It is being held at the Grande – C, NESCO Compounds, Goregaon East in Mumbai where many Indian companies and a sprinkling of internationally-based exhibitors are open to the country's expanding FEC business.
IAAPI is a show that has attracted much criticism for the failings in its organisation in the past, but in recent years has gradually improved. Mark Horwood, who has a stand for his United Distributing Company in the UK, said: "The show is bigger and better organised…there are a great many Chinese companies exhibiting this year."
Other foreign companies such as ASI from the UAE and BANDAI NAMCO are also showing and, according to other visitors, the standard of booths suggests that more investment has taken place in stand design.
Major Indian operator Sonaal Chopra, group CEO for the Entertainment and Education Group, which operates the Time Zone chain, said: "I have to say that it is a marked improvement – it's getting there."
Prakash Vivekanand, managing director at ASI in Dubai, said: "The show is surely developing and has improved over the last year in terms of layout, organisation and number of exhibitors. I congratulate the IAAPI team on hosting a good show. Visitor numbers were brisk to begin with on day one, but seemed to thin out towards the second half. Day two is normally the busier day at the IAAPI show. The majority of the FEC operators we met at the show seem to be still oriented towards cheaper arcade equipment from the east. Very few operators are keen on investing in quality, but more expensive, arcade equipment.
"The standard of amusement operations in the country has gone up a few notches, thanks to Fun City India (Landmark Leisure) primarily. Fun City has successfully proved to the market that investment into quality amusement equipment and design yields great results. It has debunked the myth that the Indian consumers mean very low spend per head. Give them quality and a reason to spend and they surely will. Other key players have also raised their operational standard following the example set by Fun City. This augers well for the future of the Indian FEC industry."