IAAPA Expo 2023, in Orlando, Florida, brought together 36,173 attractions professionals on the floor from a total registration of 41,236.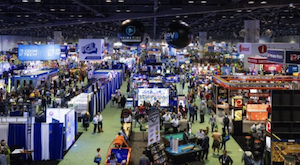 Of those, 26,453 were qualified buyers representing 18,135 buying companies, and 9,961 exhibitors representing 1,147 exhibiting companies.
The event, held in the Orange County Convention Center, showcased the latest innovations and trends in the attractions industry.
Exhibits covered more than 550,000sq.ft of space inside the North and South exhibit halls and outside in the North and South parking lots.
One of the most anticipated events of the week was the Leadership Breakfast, where attendees heard from Scott O'Neil, CEO of Merlin Entertainments. His keynote address highlighted his leadership philosophy and perspectives on the attractions industry.
"I want to express my heartfelt gratitude to the thousands of dedicated attractions professionals who make IAAPA Expo the thriving global community it is today," said Jakob Wahl, president and chief executive officer for IAAPA.
"Your passion and dedication to continuously innovate and share best practices with each other is what makes this event so special. It is wonderful to see everyone collaborate for the good of the attractions industry and bring joy and smiles to millions of guests all around the world."
The IAAPA Foundation was also prominently featured at IAAPA Expo this year. The foundation's mission is to inspire and support life-changing careers in the global attractions industry and the Expo fundraising initiatives raised $26,000 which will go toward academic, experiential, and industry scholarships.
IAAPA Expo 2023 also included fundraising efforts for Give Kids The World Village, a charitable organisation dedicated to creating magical, transformative wish vacations for critically ill children and their families.