Saudi Entertainment Ventures (Seven), part of the country's Public Investment Fund, has begun construction on a new entertainment destination in the city of Tabuk, Saudi Arabia.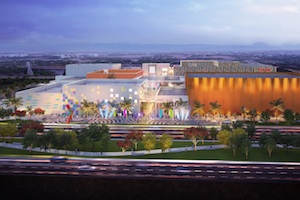 Seven says the US$266m development will "transform the entertainment landscape of the region."
Set over 72,500sq.m, it will include a 4,000sq.m FEC, a second junior FEC for younger children and a coloured glass canopy inspired by local arts and traditions.
There will also be a Discovery Adventures centre, providing an edutainment experience that has been developed in partnership with Warner Bros. Discovery.
Also on offer will be be a karting attraction licensed under Mattel's Hot Wheels Brand, a 12-hole adventure golf course and a 10-lane bowling experience.
Completing the line up is a 10-screen cinema and an event space hosting a wide variety of F&B options.
The contract to develop the site has been awarded to Al Bawani, a Saudi-owned and managed company.
Abdullah AlDawood, chairman of Seven, said: "We are excited to be bringing our exciting new entertainment experiences to the people of Tabuk. We have appreciated the city's rich culture and heritage in the development of our entertainment destination, infusing it with Tabuk's unique features and ensuring that our destination will cater to the needs of all in Tabuk.
"Our entertainment destination gates will support the local economy, create job opportunities for the city's people, and enrich the lives of those living in and visiting Tabuk."