The recent IAAPA Europe expo in Barcelona gave major VR/AR specialist supplier Hologate a long-overdue, much-anticipated and valued opportunity to link up with the rest of the industry.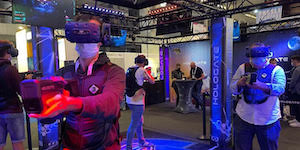 The company's senior vice-president of US operations, Gregg Katano, told InterGame that it was the company's first trade event since the pandemic began. He said: "What a thrill it was to have face-to-face time with operators, distributors, journalists and players."
The company featured its Hologate Arena that now has over 10 million players to date, and its Terminal, that made its world premiere at the show. "It is the ultimate addition to your Arena or Blitz featuring a sleek design, simple touchscreen interface and library of game info and videos," Katano said.
"Through one of the three Terminals, the continuous flow of expo-goers was able to get a sneak peek at our upcoming releases of our virtual roaming escape rooms, Hologate X, our next generation free roaming VR adventure platform and Hyper Golf, our fusion of miniature gold and digital arcade experience."