Harry Levy Amusements will showcase the virtual reality game Beat Saber, which it is distributing, at this year's EAG on stand 600.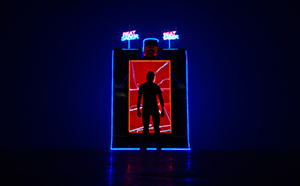 Following a growing trend, this version of Beat Saber is attendant-free. The Virtual Arcade Cabinet was first shown at IAAPA and was developed by VRsenal.
The Beat Saber cabinet features neon lighting and an 80ins 4K screen protected by quarter-inch windshield glass displaying everything the player sees in stunning life-size detail. Supporting HTC Vive Pro headsets, the cable management and retraction system provides a near-wireless experience, while the fully integrated ticketing system brings redemption functionality to the table.
Like a traditional arcade cabinet, VRsenal's Virtual Arcade Cabinet is a single machine that can go from shipping pallet to fully operational in thirty minutes, all with zero technical expertise. The cabinet also has a footprint of just 30sq.ft and has been described by the company as "optimised for high throughput, high uptime, high ROI and low maintenance."
Matthew Deith, commercial director of Harry Levy Amusements, said: "Beat Saber burst on the scene in mid-2018 and instantly became a music rhythm phenomenon. People from every imaginable demographic love to play this game, and they love to watch their friends play."
Ben Davenport, founder and CEO of VRsenal, said: "We've had commercial VR products operating under real-world conditions for over two years, so we've seen what works and what doesn't. Success in this arena requires a product that actually delivers on the high promise of VR, but without any of the hassle and inconvenience that currently comes with most commercial VR systems. It's not enough to simply deliver a fun experience, it also has to be affordable, profitable, easy to operate - and it needs to do all of this while never, ever, making anyone sick."