Hot on the heels of the release of its pioneering immersive street spy game, Operation Mindfall, Handmade Mysteries, an immersive puzzle solving game company, introduces its second city adventure game, Magic Portal.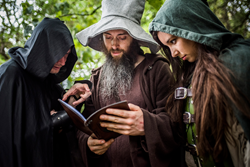 Described by owner James Addy as "the weird love child of Game of Thrones, Lord of the Rings and South Park," players must embark on a quest to stop an army of creatures hellbent on causing mischief and mayhem by closing the portal between our two worlds.
Similar to their award-winning escape room games, this fantasy parody, due for launch in June, combines clue-solving, immersive theatre and story-telling with their trademark silliness and irreverent sense of humour.
The adventure begins in a pub where players are briefed by a mysterious wizard-like character. They are then given a range of strange contraptions and equipment they need for their quest before heading out into Hyde park and the surrounding area. As players progress through the two-hour game they must work together to unlock clues and overcome challenges hidden about the city.
By fusing the latest augmented reality and geolocation technology with physical puzzles and real-life characters that players must interact with on their way, Handmade Mysteries seek to blur the lines between the real world and the world they have expertly created.
Handmade Mysteries were among the first companies to define the escape room space, bringing a twisted tone of voice and an anarchic sense of fun and humour to an emerging genre, gaining them fans and critical acclaim. Now the company sets their eyes on a new genre of real world fun, city adventure games, a genre that combines all of the puzzle solving, adrenaline pumping intrigue of an escape room in a real-world city setting.
"In London and Brighton, people are increasingly looking for exciting things to do outside during the summer months. City adventure games are being taken up by escape room enthusiasts who want to make the most of the sunny weather. Having created some of the most critically acclaimed escape rooms in the UK, we were excited to start creating games for this new emerging genre," said Addy.