Monstrous LBVR title Godzilla has been brought outside of Japan for the first time by BANDAI NAMCO Amusement Europe, after its successful launch at VR Zone Osaka, Japan, back in September 2018.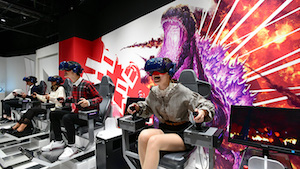 It saw its UK debut at London's The O2, which has already seen first-time releases from the likes of Hospital Escape Terror and last year's Mario Kart VR debut.
2019 marks the 65th anniversary of the Godzilla IP since the first film was released in 1954 and its LBVR outing, created by BANDAI NAMCO Amusement and licensed by Toho brings an immersive and action-packed experience to UK players.
An exclusive partnership between BNA and HTC Vive sees the game operate with a Vive Pro headset, part of the VR company's focus on location-based projects. "We are looking forward to working again with BNAE and Hollywood Bowl on their latest venture," said Graham Wheeler, general manager for HTC Vive Europe. "After the resounding success of last year's Mario Kart partnership, we continue to put location-based virtual reality at the forefront for VR fans." Players board one of two motion-based seats with dual joystick controls and are transported to the terrorised city of Tokyo in the cockpit of an attack helicopter as part of the team to take down the terrifying Kaiju. Pilots are tasked with weakening Godzilla, then launching a blood coagulant missile into its mouth in order to save the city.
"We're extremely pleased to announce the release of Godzilla VR to the UK and to further expand our library of experiences," said Matt Bradley, VR project manager for BNAE. "This release has been brought about by the growing demand in thrilling, active experiences and the great interest the public has in VR. Following its London launch, we hope to see Godzilla VR rolled out to further VR Zone Portal locations in 2020."
Image: Godzilla VR in Osaka