A setting and organisation that would not have been out of place in Hollywood… the Middle East amusement and entertainment industry's own "Oscars" night was a triumph for the people who evidently worked hard to stage it.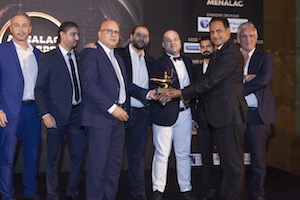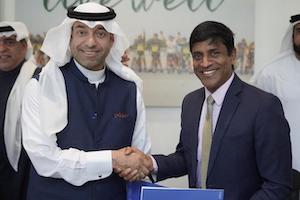 Nine independent judges from the industry chose winners from over 70 entries in different categories of the leisure, entertainment and attractions business in the Middle East. The entries came from the UAE, Saudi Arabia, Lebanon and Kuwait and were fiercely contested.
The judges' votes were assessed by an independent auditor and the results compiled. It provided the excitement to conclude a glittering gala dinner and awards night, put together by a team at MENALAC, the region's trade association, at the Ritz Carlton Hotel in Dubai midway through the DEAL trade show held the same week.
It meant that a very international audience was in town and they graced the red carpets at the Ritz Carlton and enjoyed the hospitality provided by leading companies in the industry, ASI, IE Park, Al Hokair, Landmark, Cheer Amusement and HPS Middle East.
It was a personal triumph for one of the founders of the FEC business in the Middle East, Abdul Mohsen Al Hokair, chairman of the big Saudi operating company of the same name. He was the recipient of the first Hall of Fame recognition, which was appropriate as he founded the company in the 1970s that was to become the largest FEC operator in the region and help develop the business in the Middle East.
It was also a triumph for another big Saudi operating company, Al Othaim, winning three of the 15 awards: Leisure and Entertainment Personality of the Year (CEO Fahad Al Othaim), Best FEC (Saffori Land, Rabwa, Saudi Arabia) and Best Establishment Manager in the section for larger locations (Mustafa Al Sharqawi at Xtremeland, Qatar).
Al Hokair was in the awards too, beyond the special tribute to its chairman; the company also won the Best Sport Adventure-based entertainment for SkyZone at Al Khobar, Saudi Arabia.
Best theme park went to Ferrari World at Abu Dhabi, UAE; Best Sales and Marketing Campaign - IMG World of Adventures; Best Employees Engagement Initiative and Best Waterpark went to Yas Waterworld at Abu Dhabi; Best Edutainment to Emaar for Kidzania, Dubai Mall; Best Innovation in Health and Safety to Majid Al Futtaim Leisure and Entertainment; Best Establishment Manager for a smaller location (Dipayan Bhowmick at Fun City Mercato) and Best Customer Loyalty Programme was won by Landmark Leisure for its Shukran at Fun City ; and Best Corporate Social Responsibility went to Adventureland, Sharjah, UAE. Best Unique Visitor Attraction and Best New Leisure and Entertainment Concept went to Jumble, Dubai.
Welcoming guests, MENALAC chairman Abdul Rahman Falaknaz said that the gala awards night was designed to "celebrate many years of effort from every one of you for our industry." He said it celebrated the ability to "provide a smile, to provide fun and excitement" for customers. He added: "It is not easy in the temperatures here, but we have built some of the best tourist attractions in the world."
The awards night and the activities of MENALAC he said, would help to create one of the best entertainment regions of the world. "The past few years have seen phenomenal growth. We have seen new FECS, new theme parks and new attractions. We are seeing the reforms in the Kingdom of Saudi Arabia open up the entertainment industry still further and Dubai 2020 will help bring more attractions. We live in very exciting times."
Closing the night, the chairman of the committee that organised the awards night, Silvio Liedtke, said: "For the first time ever we have come together as an industry to celebrate our success. The Middle East is on the global stage as one of the most innovative leisure industries in the world."
Top image: The Al Othaim team collect their award for Best FEC
Bottom image: Mishal Al Hokair holds the award for the Best Sport/Adventure-based Entertainment for SkyZone at Al Khobar, Saudi Arabia, with members of his management team