A licensing agreement has been reached between The MAJ Group in Indonesia, a major hospitality and real estate company, and Turner Asia Pacific to develop a huge family entertainment venue in the island of Bali.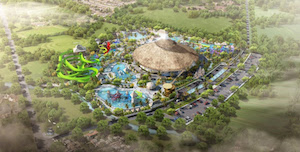 The 4.3 hectare site will contain a water park and indoor FEC with Cartoon Network theming. It should be operational by 2020.
It will all form part of the MAJ Nusa Dua complex, a major tourist location featuring hotels and a golf course. Cartoon Network, for which Turner holds the rights, is Asia's leading kids' entertainment brand and this will be the first time it has been used in a theme park in the region.