Germany's Gauselmann Group saw overall sales up 14.2 per cent to €2.53bn in 2016, despite the current uncertainty in the German gaming machine industry.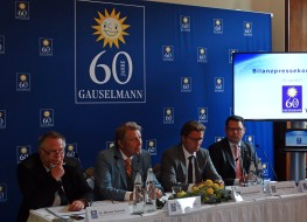 The group states in its annual report, presented at a press conference (pictured), that its workforce has now risen to 10,438 globally. Gauselmann Group celebrates its 60th Anniversary this year.
Adjusted for inter-company business, sales rose by 17.8 per cent to €1.72bn. The company reports that most of the growth is from sales outside of Germany and that portion of the business has now reached almost 50 per cent.
The domestic market, said the company, is "difficult" because of the interstate Treaty on Gambling, which seeks to reduce the size of the German domestic market.
Paul Gauselmann, founder and CEO, said that the year had been a good one despite the situation in Germany. The group had introduced comprehensive protection for players and young people. In co-operation with leading companies for biometric control systems it had developed a "Face Check" for its arcades to exclude problem gamblers and those aged less than 18 years.
The group's acquisitions, he said, were showing increased sales by 23.6 per cent from €673m in 2015 to €832m in 2016. To optimise the challenges of future years, the group had restructured itself into four divisions: Merkur, Spielbetriebe, Sportwetten and Online Gaming.
The equity of the family business founded in 1957 increased by 12.6 per cent to €775m, as against €688m in 2015. Said Paul Gauselmann: "The group has always reinvested profits - for some years now it has been preferred to invest in the market abroad - so that we can now lead an extremely successful company despite the difficult situation in the German market."