US-based FEC provider GameTime is providing a new family entertainment area, called Grand Slam Alley, to Tropicana Field, the home stadium of the Tampa Bay Rays baseball team.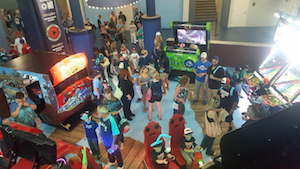 Described as an "enhanced arcade experience," the area made its debut on April 2 when the Tampa Bay Rays took on the New York Yankees.
Located on the main concourse, Grand Slam Alley includes games such as Space Invaders Frenzy, Cruise N' Blast, Baseball Pro, Dream Raiders and Deadstorm Pirates. Fans can also watch and participate in live interactive contests in the GameTime zone, presented on a Jumbotron screen between innings.
"GameTime's partnership has allowed us to enhance the game day experience for Rays fans at Tropicana Field," said Rays vice president Josh Bullock. "We are always looking for unique, fun and exciting ballpark amenities and we feel families, especially kids, will enjoy this new offering."
Mike Abecassis, GameTime owner and chief executive officer, said: "We are excited to partner with the Tampa Bay Rays this season and offer their loyal fans a place to have a fun interactive experience with their family. We want the new GameTime zone to reflect and embrace the caliber of entertainment we offer at each of our centres and this new collaboration with the Tampa Bay Rays is one of many ways we are bringing GameTime into the community."