A second entertainment hub in Riyadh is in the works for the Saudi Arabian capital.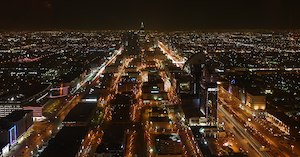 Saudi Entertainment Ventures Company, a fully owned subsidiary of Saudi's Public Investment Fund announced the new development on the back of its first last December.
The Al-Rabwa area was chosen as the home for the project due to the population density there, its need for modern leisure destinations and for ease of access, adjacent to the Riyadh metro project.
The 135,000sq.m complex will offer recreational facilities along with restaurants and cafes, open spaces for events, sports and live shows, and cinemas.
Chairman of SEVEN, Abdullah bin Nasser Al-Dawoud said his company's projects will be the largest entertainment destination expanded under a geographical plan covering all of the Kingdom's regions, to offer diverse entertainment options with a modern design and a unique character.
In line with the vision 2030 plans to diversify the country's economy, SEVEN already achieved the opening of the first cinema in April 2018 in partnership with AMC, alongside the recreational complexes. Its strategy also covers amusement parks and family entertainment centres.