Grenoble startup Drone Interactive, pioneer of interactive attractions combining drones and video games, is to install an Arcadrone in Fun Planet's FEC in Rennaz, Switzerland.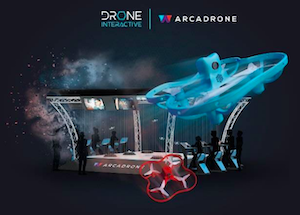 The installation, which follows on from the company's first Arcadrone near Lyon, France, is expected to go into operation before the end of the year.
Arcadrone is a next-generation interactive attraction. Four players take part around an arena in which their respective drone flies. Thanks to an ultra-efficient anti-collision system, the activity is guaranteed without crashes and is accessible from the age of six years.
Arcadrone transforms drone flying into a unique, fun experience, while offering immersive, interactive and original games. Each drone interacts with the elements of the game and the other drones.
Anthony Heim, director of Fun Planet Parks, said: "We discovered the Arcadrone concept at the IAAPA Expo in Amsterdam in September 2018. Since then, we have been closely following Drone Interactive's progress on the development of this new product, which is a real revolution in the leisure park industry.
"In June, during our visit to the Exalto Park in Dardilly, we were finally able to discover and test the attraction. We were definitely convinced that Arcadrone would perfectly find its place within the Fun Planet of Rennaz."