The Omni Arena virtual reality esports attraction has been installed in two of Full Throttle's go-karting venues in Cincinnati, Ohio, US.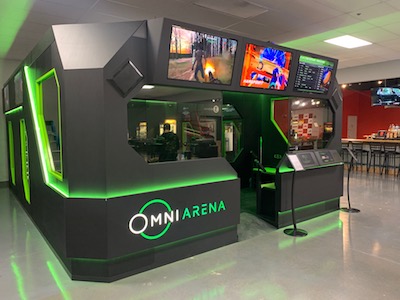 "Omni Arena is the perfect fit for our go-karting audience," said Aaron Banfield, CEO of Full Throttle. "With its built-in esports contests and prize pool, the attraction is competitive, social and physical, much like go-karting. Our guests love it."
the first in the city for the manufacturer, Omni Arena is a full-body, competitive virtual reality attraction for up to four players. Motion platforms inside the attraction enable players to walk and run around inside video games. Guests can compete for top spots on leaderboards and win a share of a US$100,000 esports prize pool sponsored by Virtuix and HP.
"We chose Omni Arena because it offers the most complete package of any VR system," said Kenton Noran, co-owner of Full Throttle. "The integrated esports leaderboards result in high repeat play, which is what matters most in the long run."
Omni Arena has seen high demand from go-karting venues. Prior to Full Throttle, Virtuix installed the attraction at several other go-karting FECs, including Andretti Indoor Karting & Games in Orlando, Pinballz in Austin and Big Play in Biloxi.
"Omni Arena has been highly successful with go-karting venues," said Jan Goetgeluk, founder and CEO of Virtuix. "We're excited to work with the Full Throttle team and brand and we believe Omni Arena's competitive nature will be a big hit with its audience."