Virtuix, developer of the widely sold Omni virtual reality treadmill and VR Arena esports attraction, has been selected by Foundations Entertainment University as the exclusive sponsor of the virtual reality category.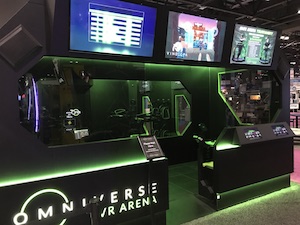 Foundations University, now in its 17th year, is the long-running educational seminar programme covering all aspects of building and operating a location-based entertainment business.
"We are extremely honoured to become part of Foundations University," said Jan Goetgeluk, founder and CEO of Virtuix. "Our selection for this exclusive programme follows the successful launch of our VR Arena esports attraction last month at IAAPA. We look forward to sharing our insights and expertise in out-of-home esports and VR with the Foundations attendees."
"Virtuix has set a high bar for virtual reality attractions designed for the location-based entertainment industry," said Frank Seninsky, owner of Foundations University. "When I saw the VR Arena attraction at IAAPA in November, I was impressed by its small footprint, its attractive visual design and its ability to stimulate repeat play with global leaderboards and ongoing prize contests. We are excited to welcome Virtuix to our Foundations University family."
VR Arena is a four-player esports attraction that stimulates repeat play by giving all players a chance to win in ongoing prize contests with an annual prize pool of US$50,000. The attraction features four Omni motion platforms for walking and running inside virtual reality, an automated staging area for quick player setup and minimal attendant labour, and social sharing stations to share gameplay footage embedded with the venue's logo.
Virtuix developed and launched VR Arena together with its partner Funovation, specialists in developing small-footprint attractions. As well as partnering with Virtuix on VR Arena, Funovation is Foundations University's exclusive sponsor for laser maze attractions. "Virtuix earned its selection for Foundations University thanks to the impressive appeal of VR Arena," says Ryan Borton, CEO of Funovation.
"The attraction was met with such enthusiasm and demand at IAAPA 2018 that we had to turn guests away after the first day. Our team is returning from the show with a big book of orders and a clear mission for 2019: ship and install this new attraction at our customer sites at a rapid pace."
Virtuix and Funovation aim to start installations of VR Arena in Q1 2019. The next global Omniverse esports tournament is scheduled for January 24-27, featuring two-player teams competing for cash prizes in the popular shooter game Omni Arena. Players in 45 countries can participate at one of the more than 500 commercial entertainment venues around the world that operate Omni systems.