A Beat Challenge has been set up between La Liga, the Spanish football league, and PortAventura World, the major theme park near Barcelona.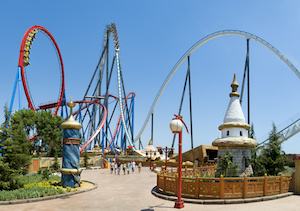 The project will provide new content to the park, which attracts 5.2m people annually and over 115m La Liga fans. The contest is a virtual game and themed restaurant, shop and digital centre at the theme park.
The aim is to provide football and entertainment through various digital and physical experiences structured into three phases. The first, with an investment of €10m covers the digital experience and themed restaurant inside PortAventura and will be ready for action during the 2021/22 season.
The second phase will include the design and development of a new La Liga-themed attraction – plus an investment of another €40m. In the final phase it is planned to create a La Liga theme park within PortAventura World with an investment of €100m.
At the same time, there is a licensing agreement with PortAventura World for the use of the La Liga brand and an app. This agreement will run for 15 years and give the park exclusive rights in Europe and Russia.
The deal gives La Liga clubs the chance to consolidate their presence in entertainment markets, increase revenue, improve brand positioning, connect with a younger audience and develop an entertainment format that can be replicated on the international market.
The Beat Challenge consists of the game itself through an app and the restaurant and shop. A multi-disciplinary experience constructed around unique story-telling will convert it into a single entertainment product. That way, followers of La Liga will be able to access PortAventura World digitally through the game and will receive benefits when they visit the resort.