Fishbowl Frenzy, a much-talked about video redemption game at the recent Euro Attractions Show in Amsterdam, Netherlands, was shown in prototype in Rome, Italy, this week.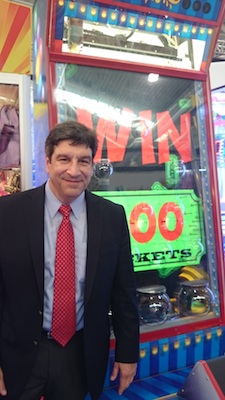 The carnival-themed game combines both mechanical and video elements, challenging players to time the drop of real balls behind a 65ins interactive, transmissive LCD screen. Fishbowls are affixed directly to the screen, in which animated fish swim and participate in the gameplay.
At ENADA Rome, this week, US-based distributor Betson showed the game, which is due to go into production very soon. The response at EAS was "incredible," director of export sales Tom Kane (pictured) told InterGame.
Fishbowl Frenzy has been on test in the US since June and has been a strong performer, he added.
Kane explained that Betson is seeking to establish international markets and is appointing distributors in key territories for its products. Among those already selected are Amusement Services International, UDC and Game Castle.