Despite a Covid world of reduced capacities and interrupted opening, the new Triotech Storm VR game has had pleasing income averages, reports distributor BANDAI NAMCO Amusement Europe.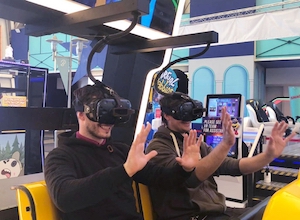 "The takings have been really impressive, even for our present Covid world," said Trevor Sutton, leisure equipment controller for Namco UK.
"Since taking delivery in late July, this title really has gone down a storm and early revenue has been very strong, on par with the other market leading coin-op VR producers. We operate a manned environment which is fully Covid secure and feedback from guests has been extremely positive to date, both in terms of hygiene and gameplay."
Virtual Rabbids had consistently held number one weekly spot for VR income in the first location to receive the new Triotech game, Butlins Bognor Regis Resort, before Storm took the top spot for the majority of weeks since its installation. Its performance has not negatively affected the income of any other VR machine, it has been noted by the distributor.
Another top name in UK machine operations, Hollywood Bowl in Crawley, near London, was next to take the new game and is now deciding on locations to invest in with further units.
Matt Bradley, VR project manager for BNAE, said: "Storm has caused quite the surge at Crawley, quickly becoming its top-earning machine. It acts as excellent reassurance that the right game in the LBVR market, despite the current climate, can retain its profitability."