Eighty Dubai fire-fighters converged on Jumble, the Landmark Leisure indoor adventure park…but not to fight fires. The venue was playing host to the Dubai Civil Defence forces for a team-building exercise.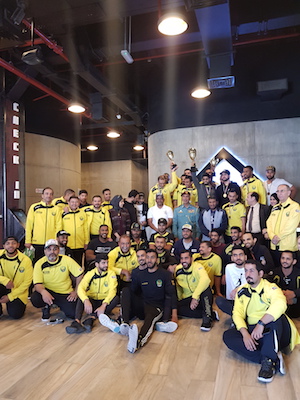 Joint teams from fire stations and the emirate's Strategy and Future departments apparently thoroughly enjoyed their corporate event, a three-hour Jumble session in which they divided into 20 teams representing their respective fire centres to compete with one-another.
The emphasis was on honing higher leadership skills and the success of the event led to the acting director general of the Civil Defence Department paying tribute to Jumble: "What impressed me in the stages that competitors pass through is that it's been designed on mental and muscular effort and this is an advantage creates an innovation and knowledge. It teaches them how to solve challenges and face them in real life.
"Through my wandering around this centre, I became convinced that these centres play a great role in developing knowledge and cognition for individuals also; it arms them with capabilities and possibilities which qualify them to solve challenges quietly without rush or confusion. I now encourage everyone to visit Jumble and to participate in all the stages of the challenges and to learn how to solve them in a positive spirit through teamwork."
He added, "That's a feature that rarely exists especially as it adopts the current visions of the government in promoting the concepts of innovation and finding non-traditional and out of the box solutions by introduction an innovative and positive ideas and solving different situations with a spirit of challenge and with a desire to overcome any obstacle they may be exposed to."
The winning team came from the Al Marsa Centre, followed by Al Hamryiah and Port Saeed. They received medals and trophies from Civil Defence and a 'goody bag' from the venue.