Simulator racing experience Formula 1 Arcade will open a location in Boston's Seaport area next year and plans to open more in the US.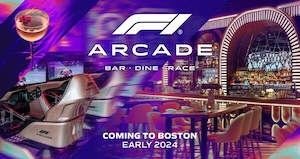 The Boston Seaport location will be the first F1 Arcade in the US, and the company has ambitious plans to open over 20 more venues in the country over the next five years.
The F1 Arcade concept was initiated with the company's flagship London venue, which opened late last year.
Among the aesthetic touches included at the Boston location are F1 circuit-inspired chandeliers and mood lighting.
The 16,000sq.ft venue will offer "69 bespoke, full-motion racing simulators" styled as F1 cars designed in conjunction with F1, as well as the opportunity to drive on a number of official Grand Prix tracks in individual, group or all-venue racing modes with changeable difficulty settings.
F1 Arcade founder Adam Breeden is the creative force behind many other competitive entertainment concepts, including Bounce, Hijingo, AceBounce, Puttshack and Flight Club, the latter two of which also has venues in Boston Seaport.
Breeden, also CEO of F1 Arcade, said: "Opening our first US location in Boston marks the beginning of our US roll out.
"Formula 1's success globally, and particularly in the US, paves the way for F1 Arcade to continue to thrill fans and importantly, also non-fans with our unique racing experience in a beautiful, high-energy environment with the very best hospitality and service."
Stefano Domenicali, president and CEO of Formula One Group, said: "Formula 1 is enjoying significant growth globally, and we are constantly innovating to ensure that we are bringing the highest quality of sport and entertainment to new and diverse audiences.
"F1 Arcade does exactly this by putting our fans behind the wheel of bespoke racing simulators, so they can feel the thrill of an F1 car first hand, coupled with a premium hospitality offering to match our world-renowned paddock.
"The success of the London venue so far has been incredible, and we are excited to see the F1 Arcade project continue to grow as it hits the US, starting in Boston."
The upcoming F1 Arcade for Boston Seaport will also offer an "enormous cocktail bar" with beverages from award-winning bartender, Peter Vestinos as well as a "globally inspired", chef-developed food menu with a focus on fresh and local ingredients.