A new zipline attraction in Spain is claiming the crown of Europe's longest.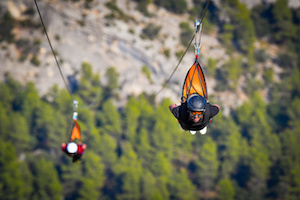 Fuentespalda, in the inland southern province of Teruel, Aragon, one of the most sparsely populated areas of the country, has designs on promoting itself as a destination for adventure seekers and adrenaline sports.
The ride claims to fly riders along a 1,980m line 800 meters above sea level providing spectacular views of the Gúdar mountain range.
The zipline, which reaches speeds of over 80km/h claims to have displaced the previous record holder at Zip World in Wales.