Europe's biggest axe-throwing venue is set to open in London, England, next month.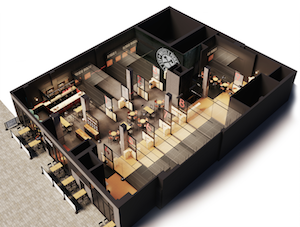 Whistle Punks Urban Axe Throwing will open its doors in the heart of Oxford Circus on September 5.
With nine lanes, an extensive bar and food offering, the new venue will cover an area of 7,000sq.ft.
The first Whistle Punks location opened in 2016 and, to date, more than 15 million axes have been thrown across its four existing locations.
Co-founder Jools Whitehorn said: "I think a large part of the appeal is that it feels like something you shouldn't be allowed to do. It's a visceral experience, which is physical without being too demanding.
"It all takes place under the close watch of our instructors, who make sure everyone stays safe while having a truly unique night out. With our brand new and world-beating Oxford Circus location, we couldn't be more proud to be bringing the signature Whistle Punks experience to such a large audience."