The Scary Strokes FEC in Waldorf, Maryland, US, has implemented Embed's Mobile Wallet to great effect.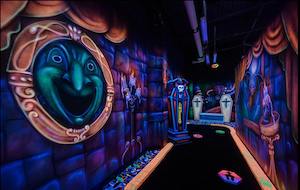 The venue, which has a theme covering light-hearted horror, has been able to offer guests safe, contactless gameplay and redemption options and also the ability to top-up their virtual game cards at any time from anywhere or without leaving the game.
They will also never lose their game cards because they are safely sorted in the mobile wallet and protected by mobile encryption technology.
The customer database created by the Mobile Wallet, including customer contact information, transaction data, consumer spending trends and other features, enables the operation to develop its loyalty programme and customer relationship offers and tactical promotions to drive return customer visits.
Doug Roth, president and CEO of Scary Strokes, also asked the Embed development team to add a QR code system to the wallet that enabled him to scan customers who visit the venue for registration, tracking and tracing. The wallet will track which games are played and when by the player and if he or she tests positive for Covid-19, Roth has the information available to support tracking and tracing.
Said Roth: "There's nothing to dislike about this system. It is clever and very convenient; there is no need to visit a kiosk or a staff member and guests can do everything from their phone."