Embed, the payments systems company that provides debit card products to many Middle East family entertainment centres, was the support sponsor for the recent MENALAC Saudi Arabia Networking Event, held in Riyadh.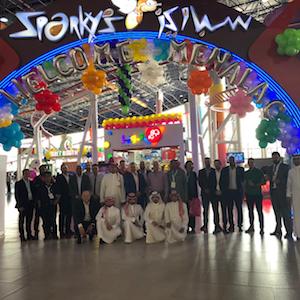 The event, sponsored by the Abdul Mohsen Al Hokair Group and Al Othaim Group for Leisure and Tourism, two major operators in the country, was designed to stimulate discussions between stakeholders in the Saudi market on the future of leisure and amusement.
Following the event, Embed has unconditionally praised the ideas behind it and the contribution brought by internationally-renowned speakers, industry experts and key government authorities. "They were there to discuss global best practices and unravel the opportunities present in the Kingdom," said Embed.
The power-packaged agenda including keynote presentations, educational sessions, panel discussions featured speakers from notable organizations and attracted attendance of industry professionals from various public and private sector organisations. A variety of key subject such as technology innovations, safety standards and updates on policies & protocols were discussed along with latest trends, resources and ideas.
Saeed Abdillahi, sales manager for Embed commented, "The Saudi market is very important for Embed and it was real pleasure to be co-sponsors of the event, the first of its kind by MENALAC in Saudi Arabia. Embed is committed to supporting the Saudi Vision 2030 by educating the market. Our presentation on the benefits of cashless systems was well received and we look forward to working with new potential partners".
Secretary general of MENALAC Prakash Vivekanand, responded with his thanks to Embed for its support. "Events such as these helps MENALAC to facilitate progressive dialogue with the local industry stakeholders and unlock fresh opportunities for our members."