UNIS and French distributor Avranches Automatic had a successful Euro Attractions Show at the Amsterdam RAI in the Netherlands, last week.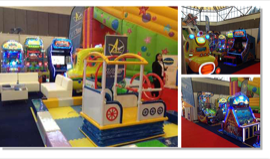 The booth (pictured) presented a selection of games including the new kiddie ride Seaway Submarine, Ducky Splash and Squirt a Gator, Univend water games and video redemption Pirate's Hook 4.
On display for the first time in Europe was the Playbox system, a stylish hardwearing range of softplay equipment.
UNIS also unveiled a new children's game at EAS 2014, Drummer Kids. This one or two-player game has two different drums and a multi-coloured LED cabinet, two main speakers and a woofer, as well as a 32-ins LCD screen.
Players beat the drums in time with the music and bash the snacks and sweets as they journey along. Players must beat the particular drum required for each snack that appears in front of them.