Registration for January's EAG Expo 2023 is set to be big, with an increase of 58 per cent compared to 2020.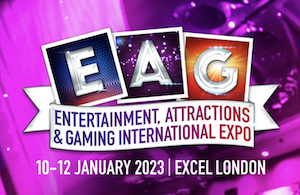 The EAG Expo 2023 is significant as the first face-to-face edition of the trade show since January 2020.
Show director Nicola Lazenby hopes EAG 2023 will provide a valuable opportunity for connection between innovators, creators and other industry stakeholders.
Lazenby confirmed some of the exhibitors in attendance will be: Electrocoin, Game Payment Technology, Bandai Namco Amusement Europe, UDC, Whitehouse Leisure, Novomatic Gaming, Inspired Entertainment, PMS International Group and Sega Amusements International Ltd.